We are Manufacturer, Supplier, Exporter of Quick Couplers from Pune, Maharashtra, India. Also, we are Authorised Dealer, Stockist of Janatics Pneumatic Products.
Janatics Quick Couplers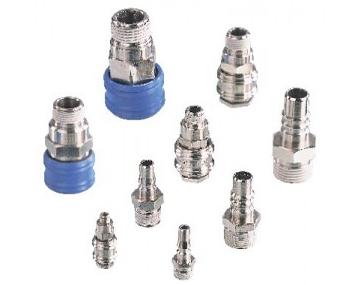 Description :
Nickel plated brass body
High flow characteristics
Wide range of models
Maintenance free and long life
Compact size
Attractive design
Teflon pre-coated male taper threads
Applications :
All compressed air lines
Assembly lines with pneumatic tools / Machinery with pneumatic systems
Pneumatic control panels
Operations :
To connect the coupling, simply push the plug in to the coupling.
To disconnect the coupling, push the sleeve back and the plug automatically comes out.
Safety precautionary note
During disconnecting under pressure, the plug comes out with high speed and force. Hence care to be taken to prevent injury.